Today we celebrate humble compassion with gratitude and big smile. #yearofgratitude
The first thing Dalai Lama did when he entered the stage on Malmö Live was to wave his hand at people in the audience and say "Oh sit down. Sit down."
Everyone is standing and clapping as he enters, including myself and Nikki. Although we had hoped that we'd be on the stage Live scribing on a big canvas, we are now infused with the euphoria of simply having the opportunity of listening and capturing the highlights of Dalai Lama's talk in Malmö on September 12, 2018.
We're a part of an audience of some 1500 people. Full house in the main hall of Malmö Live.
When seated, he is squinting his eyes, looking at the audience and he says: "I cannot see you. More light please." Laughters in the audience. He uses humble humor to de-weaponize. To create a kind and compassionate atmosphere. He knows his message will pass easier with compassion.
It is Nikki's first time Live scribing digitally. We borrowed an iPad from a kind friend, Jonas Eriksson. (Jonas works in another kind of Live recording with video. Learn more on his website: (Ö–resund Live)
Nikki describes her experience:
My chest hosted a rare mix of feelings that day. Excitement to be there and nervousness to perform in an entirely new medium. Curiosity and humbleness to try to capture his thoughtful words.
It was a unique experience in many ways, but it also felt familiar – this is the scribing experience. To be open, listen to what is being said both at a concrete and a deeper level, and then try to convey the message without re-molding it too much.
I'm happy I had the chance to interpret Dalai Lamas philosophies.
When the talk finish we directly send the pdf-file to Martins inramningar and prints. Our mission is to print in big, A1-format in three copies. Then get them up to Dalai Lama's room at Clarion Malmö Live at the "Zlatan suite". We feel extra excitement that he'll soon be able see our work.
Martin prints beautifully and fast.
We come back to Clarion Malmö Live. I stick a small note on the portfolio before the kind lady in the reception receives it.
We made it.
A day later we meet Simon Marke Gran, project leader of the Dalai Lama visit, at the local café Noir on Engelbrektsgatan. He opens the portfolio and shows us that Dalai Lama has signed: "With prayers, Dalai Lama". On all three copies. Oh that joy. We get to keep one.
A memory for a life-time.
Simon also shares that Dalai Lama had looked at the illustrations with great amazement and laughed heartily. Especially when he came to the part that captured: "Even animals have gratefulness. Maybe not mosquito."
Thank you to Simon Marke Gran of IM Sweden. Without you this wouldn't have been possible. Thank you for your support. (Learn more about Simon's work for a more peaceful world: Humanium Metal).
So today 6th of July, 2020, we celebrate you Tenzin Gyatso, the 14th Dalai Lama, 85 years walking and smiling on this earth. And we celebrate the year of gratitude.
Key take aways from Dalai Lama's talk at Malmö Live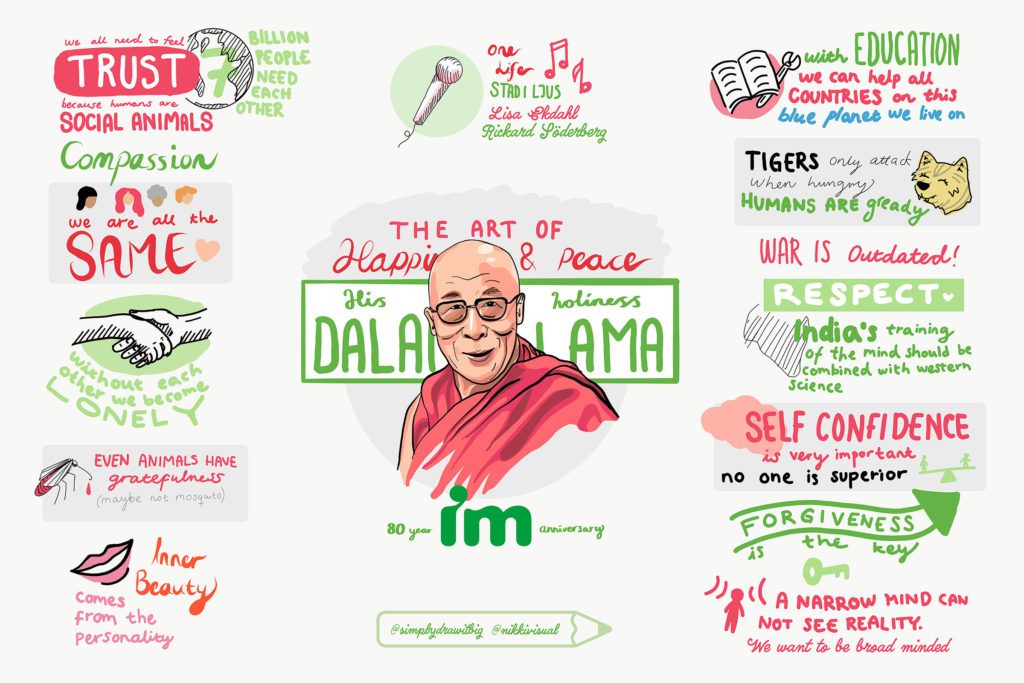 Compassion for other people is the basis for happiness and peace.
Beauty comes from the inside
We are all social animals.
Now, this year of gratitude we have had the possibility to take a step back to reflect and analyse what new ways we might be taking ahead. Since physical events have been cancelled or postponed we are further developing our digital and remote scribing services to support organisations and people in our new ways of meeting. Wether it be via Zoom, Microsoft Teams, google Hangout or any other digital meetings-platform, you'll easily be able to get your personal scriber to join in to capture your meeting or event. (See one case study here from the Open lab Stockholm event via Zoom: https://medium.com/@simplydrawitbig/thank-you-team-openlab-4d2ce9d18298)
The future is bright and we are grateful to be in a business where we can support understanding, communication and collaboration. And we look forward to connect, develop and build stronger partnerships ahead.
Love,
Mina
PS. You can check out our Dalai Lama highlight on instagram for a view behind the scenes: https://www.instagram.com/stories/highlights/17989594879115375/
06.07.2020