The program Creative Force by the Swedish Institute turned 10 years this spring 2020. Last year, on May 21 2019, we had the honor of being the visual facilitators during a full day dynamic workshop, led by Marcus Haraldsson and Henrik Johansson.
Creative Force has since 10 years been funding projects working with culture and media to strengthen democracy, human rights and freedom of speech in 27 different countries.
Participants discussed through structured creativity, what they had learnt and how the work should develop in the future. Supported throughout the day by visual facilitators Mina Legnered & Frida "FridaRit" Panoussis.
– It was an important event for the program and the Swedish Institute were genuinely curious to learn from their grantees. We developed an ambitious inclusive workshop and the visual work by Frida and Mina was a central piece of it all, in prompts and graphs on each table, on a giant wall painting where workshop results were harvested, and as a live scribe canvas. Without these embedded visual aspects I don´t think we could have gotten as deep into concepts and solutions with participants as fast as we did. And the canvases then provided crucial material for a report on the lessons of the day. Results that the organization is still actively learning from. Frida and Mina were impressive to work with throughout the whole conceptualizing process.
/Marcus Haraldsson, Co-founder at Global Grand Central.
As facilitators and learning designers we wanted to find a way to gather all the participants' collective learnings and recommendations in tangible way, that was easy to understand and could be used as a foundation for a report with suggestions for the future. To work with Simply Draw it Big to develop the visual methods and get support with the Live Scribing during the workshops simply took everything to a whole new level.
/Henrik Johansson, Learning & Transformation Strategist, Emerging Earth.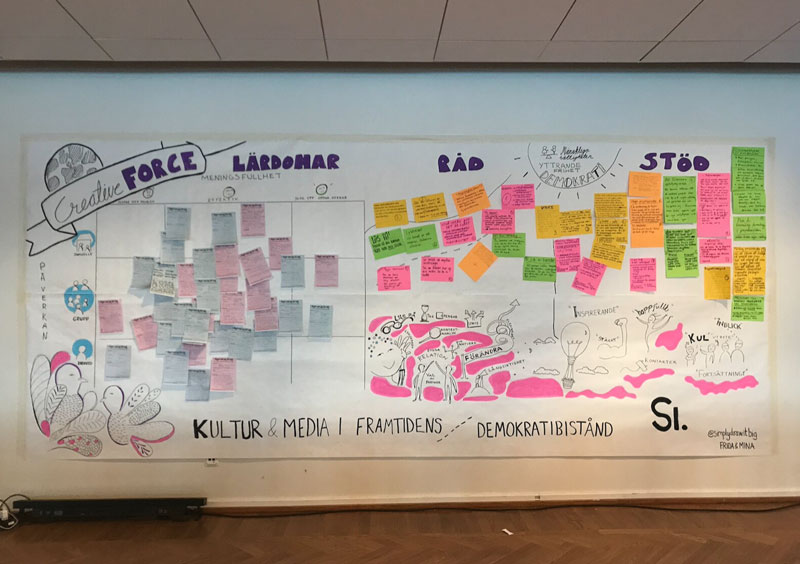 Few more pictures from the day if you're curious to see more of what it looked like during the day click here!